Mystery Quilt 2018 - 'Pastures New'

VIEW THE COLOURWAYS HERE

Registrations for 2018 are now closed, we hope you enjoy this year's Mystery!


Welcome to 'Pastures New', our Mystery Quilt block of the month, starting in February 2018 and running for ten months. This will be the sixth Mystery that we have run.
This quilt will be available in 2 sizes and 9 colourways. Registrations are open until January 7th to give us time to cut all of your pieces.
Available in the shop or by mail, all our quilts are precut and ready to sew.
FABRICS ARE PRECUT
SINGLE 48" by 60" (NZ$25 / month) OR DOUBLE 72" by 72" (NZ$35 / month)
CHOICE OF 9 COLOURWAYS
POST/COURIER OPTION - add $5 per month (NZ only)
TEN MONTH PROGRAMME STARTS FEB 2018
DESIGNED IN NEW ZEALAND by Sheila Christensen
JOIN OUR WORLDWIDE FACEBOOK GROUP www.facebook.com/groups/mysteryquilters
Sheila has partnered with Cotton Cuts in the USA and we now have fellow Mystery Quilters in Australia, America and Canada, and this year we are excited to be welcoming quilters from the UK through Simply Solids. It's so much fun to see quilters from around the world taking part and to follow their progress in our facebook group!
2018 Mystery Quilt Details:
1. The colourway fabrics will be on display in the shop from December 1st 2017.
2. Enrollments will be open from 1st December until 31st December.
3.To enroll you need to complete a form and pay the deposit of one month's payment plus any postage.
4. Enrollment can be done in three ways:
-- come into the shop
- order online
- phone 06 370 9400
5. If you prepay in full before January 31st you will receive a voucher for
20% off purchases - up to $50 (single) or up to $100 (double)
in store or online (not including the mystery or sewing machines).
Mystery 2018 starts on February 3rd 2018.
Only $25 per month for a single (48" x 60") or $35 for a double (72" by 72") plus postage and handling of $5
Here's one of the 2017 Mystery quilts. You can see more on our facebook page, and join our worldwide Mystery facebook group at
www.facebook.com/groups/mysteryquilters
Take a look at some previous Mysteries designed by Sheila:
2017 'All Aglow'
Double - Cape Cod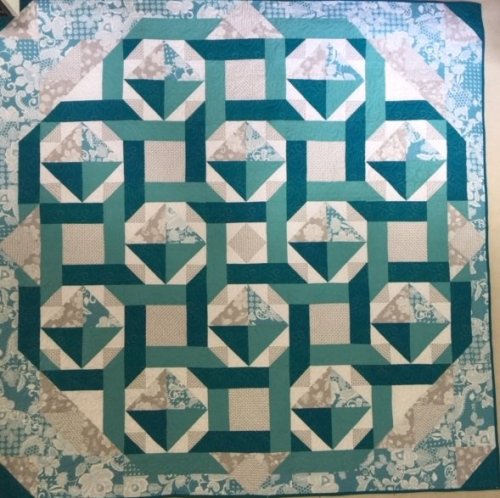 Single - Sugared Almonds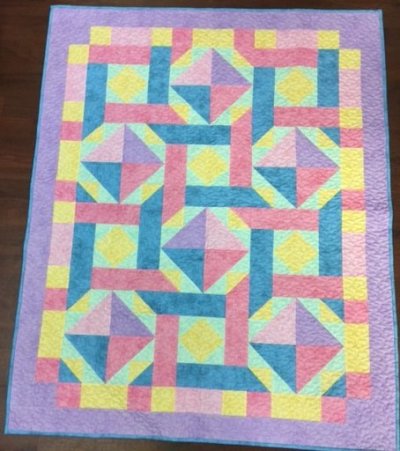 2016 - Aurora (pattern now available)
2015 'Flying around the Square'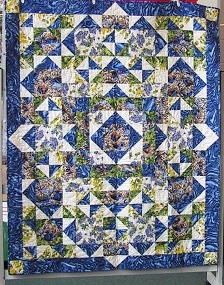 A Sample of the 2013 Mystery quilt - this colourway is called Chatham Island Iced Tea
....and two of the 2014 colourways - Jungle Fever and Summer Daze